I have no experience in home inspection, public health, building construction, plumbing, or heating. Can I take your radon measurement or mitigation course and pass the proficiency examination after the course(s)?
Yes. No matter what your background, there will be new information you need to master to pass the proficiency examination(s). Our courses are designed and our instructors are skilled to help prepare you to pass either the radon measurement or the radon mitigation examination.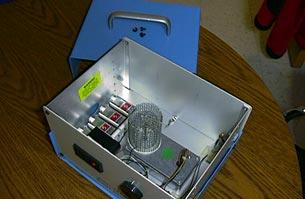 How many people attend these courses?
The in-person course sizes commonly range anywhere from 5 to 25 students. This allows for a lot of interaction and personal attention from the instructor. The online courses are asynchronous so you will be working alone on the coursework though there are opportunities for discussion with classmates through discussion boards.
Do I need to take the measurement course before taking the mitigation course?
Yes, the radon measurement course is a prerequisite to the radon mitigation course. The material covered in the measurement course is important to understanding and succeeding in the mitigation course.
Can I take the measurement course now and the mitigation course at a later time?
Yes. However, if you wait to take the mitigation course and examination, it will be very important to thoroughly review the measurement course beforehand, since 25 percent of the mitigation exam is from the measurement course. In addition, you need to take the mitigation course within 12 months of completing the measurement course to be eligible for national certification and state licensing.
How many continuing education credits do I need each year?
For NRPP certification renewal, every two years you will need a minimum of 8 hours of Category I continuing education credits and a minimum of 8 hours of Category II continuing education credits. In states with licensing (such as Indiana, Iowa, Kansas, Nebraska, and Ohio), you should check with the state radon departments in the states in which you plan to do business. To find contact information for state radon departments, please go to the State Radon Contacts Page.
Can I take a course in a state other than where I live? 
Yes, you can take a KSU course in any state, with the exception of Florida, Illinois, Ohio, and New Jersey. Contact the state radon contact in the states in which you plan to do business. To find contact information for state health departments, please go to the State Radon Contacts Pages. In Iowa, you must take the mitigation course in the state.
What do you recommend for equipment for a certified and/or licensed measurement provider?
In our measurement classes, we cover the full range of passive, time-integrated and continuous radon monitors, their comparative performance characteristics, advantages, disadvantages, and costs. Our instructors also discuss their own experiences with using the various measurement devices and monitors as well as business trade-offs with various options. One of the many advantages of taking the KSU measurement course is that we have no stake in whatever device you wish to purchase or lease, whereas some of our private sector training providers may have interest in specific devices. Our interest is in giving you the best unbiased, research-based facts that will help you make the best choices.
What is the cost of radon measurement devices? I want to determine if it makes sense for me to join another partner with the equipment or to buy the devices myself.
There are two fundamental options available for radon measurement devices: passive time-integrating devices and continuous radon monitors.
Passive time-integrating devices are the least expensive and the costs will be about $10 to $20 per device, such as activated charcoal. For testing in real estate transactions, you would need two devices and thus your cost for devices per test would be $20 to $40. In addition, you will probably need to overnight the test devices to the analytic laboratory.
Instead of activated charcoal devices, you may choose to purchase a direct reading electret ion chamber measurement system for about $2,600 but your expense per test would typically be about $2.00 or less.
For quality control, you are required to do the following:
for every 10 tests, you would need to use a duplicate device ($10 to $20)
for every 20 tests, you would need to use a blank device ($10 to $20)
for every 33 tests, you would need to use a spiked device (about $150)
Generally, competition and service to customers drive radon measurement providers to continuous radon monitors. The costs of continuous radon monitors will be similar to the following:
Initial purchase price ranges from about $800 to in excess of $5,000 per monitor (the price reflects quality of monitors such as minimum sensitive, accuracy, and precision). There are also lease options that typically are about $125 per month.
In either case, whether purchase or lease:
you will need to complete a performance test in order to be certified and/or licensed. A performance test will cost about $150;
for quality control, you are required to use a duplicate measurement device for every 10 measurements you complete. The least expensive option for a duplicate would be an activated charcoal device at a cost of $10 to $20.
If you purchase a continuous radon monitor, you will need to calibrate it at least annually and this will cost about $150.